A TRIBUTE: FROM ONE EDITOR TO ANOTHER
Hang on for a minute...we're trying to find some more stories you might like.
The time of year has come again where the senior class graduates and begins the next chapter of their lives. One of those seniors, Colby Yokell, will leave behind an amazing legacy as she departs from SBRHS and moves on to the world after high school.
Colby and I are currently co-editors of the school newspaper, the Breeze. In the four years working on the Breeze with her, I have been fortunate enough to watch her transform to not only the person she is today, but the journalist she is today. So I would like to take this time to reflect on the amazing person and journalist who has impacted the Breeze in more ways than one: Colby Yokell.
The year was 2014 and two little freshman walked into a Breeze meeting, after their teacher, Mr. Chase, encouraged his freshmen to get involved with the school newspaper. Ms. Copeland, co-advisor of the Breeze, stated that she remembered Colby and I as "two giggly, little freshmen girls" when we first started off on the Breeze…the start of an adventure that would change Colby's life.
Colby started off as most new journalists on the Breeze did: through Seven Question Slams and book and movie reviews. Through these, Colby began to get her feet wet in the massive ocean of journalism.
Her first ever article was actually a Seven Question Slam with Mrs. Ayer. This would be the first of over 70 articles she wrote for Breeze!
After her first Seven Question Slam, she began to publish beautifully written book and movie reviews, really diving deep into the aspects of writing and cinematography. Some of these include The Maze Runner, Asylum, Interstellar, Unbroken, and The Kite Runner, just to name a few.
Throughout the rest of her freshman year, she continued with Seven Question Slams, book and movie reviews, and coverage of many school events, like the spring concert and drama production.
But at the beginning of her sophomore year, everything changed. Not only did she become a co-editor, but she wrote an article that I personally feel like changed her whole career in journalism. The article was titled "Turf Time: Where does it go?" Being a varsity soccer player, Colby dug deep to reveal the lack of balance in the time each sport got to use the turf, in an unbiased manner.
Recently after this article, she even got offered an internship by Spectator editor, George Austin. He truly noticed her passion and skill for journalism. She proudly writes articles for the Spectator even into today, bringing news and answers to local towns around the area.
She put the Breeze on the map. Our freshman year, many people, even seniors, didn't know what the Breeze was. But now, almost everyone knows. From morning announcements, to her idea of monthly Breeze Briefings, to covering events that students truly care about, Colby made sure that even though she was leaving high school, the Breeze and its name would continue to thrive.
Since then, her impact on the Breeze has grown at an exponential rate. Breeze co-advisor, Mr. Chase, states when reflecting on Colby's time at the Breeze that journalism and the Breeze has, "Helped her form a sense of who she is and who she wants to be." He even selected her to go to the Washington Journalism and Media Conference in Washington D.C. to further explore her passion for journalism. She went to the conference this past summer, as has stated numerous times how much she absolutely loved it, and journalism itself.
Now as this school year comes to a close, so does our time at the Breeze. I know wherever life takes her, Colby will always have not only a passion, but a gift for journalism. I have been fortunate enough to see how much the Breeze has changed her into the person she is today. Colby even recently stated that when asked if there was one event that happened to her in high school that completely altered her high school experience and would make her a completely different person if it had not happened, "without hesitation, I answered joining The Breeze."
Colby will be attending Endicott College this fall, majoring in English. Whatever her future may hold, I know I speak for the Breeze when I say that I hope she keeps journalism a part of her life. She truly has a gift and passion with not only writing, but journalism. She eloquently spreads the news to the people who want and need to hear it and finds answers to the questions, even the hardest ones, that the people deserve to know.
For now, we all wish you the best in all of your future endeavors, and thank you, from each and every one of us, for inspiring and encouraging us all each and every day.
Thank you, Colby.
Love, Sydney and the Breeze

About the Writer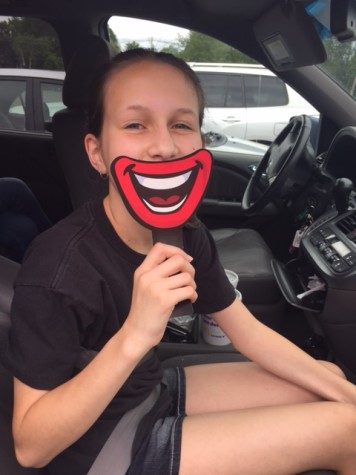 Sydney Mis, Co-Editor
Sydney is a senior at SBRHS and has been part of the Breeze since she was a freshman. She is also part of the World Language Club, Science Olympiad, Amnesty...