***The following piece is entirely satirical and does not reflect the real changes to Somerset Berkley's schedule. This piece is 100% student written and in no way is it intended to be taken seriously.***
Somerset Berkley students are back in school for the 2023-2024 school year and have been greeted with exciting new schedules!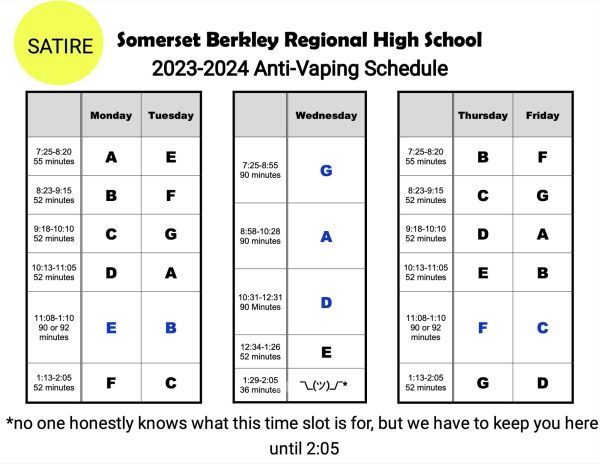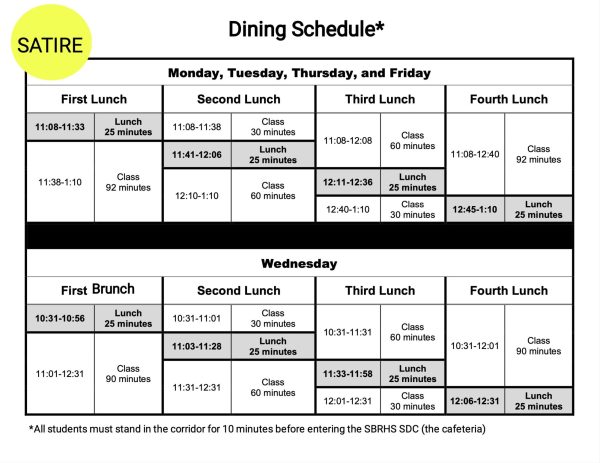 Last year, students had five minutes to pass from one class to the next, but now, psychologists are saying that this might just be too much time. You see, with five whole minutes of free time, around 10 Somerset Berkley students were frequently heading to the restrooms to vape in between classes! A recent study has shown that by decreasing the time students spend in the hallways to three minutes, rather than five, vapers, for some reason, no longer feel the need to stop in the restrooms to "get a hit." Addiction psychologist Barbra White puts it this way, "With five minutes to themselves, vapers have plenty of time to stop in the restroom, vape, and get to their next class on time. By decreasing this allotted time, students will not have this option. That's because vaping students —the ones who break all of the no vaping rules– really care about obeying the rules on arriving to class on time. It's astounding how that works!" School officials are saying that this change in scheduling will stop the vaping problem, unlike last year's failed attempt with e-hallpass.
Critics of last year's schedule also found that Somerset Berkley's prior schedule "made too much sense" and didn't "challenge the students and staff to memorize the schedule because it was too simplistic and easy to remember." Last year, classes started at 7:25, 8:20, 9:15, 10:10, 11:05, and 1:05. This made things too simplistic; the start of class was just too predictable. Now, classes will start at 7:25, 8:23, 9:18, 10:13, 11:08, and 1:13. This spices up the schedule and makes students and staff alike question, "wait, when does this class start again?" To further improve the schedule and make it more of a challenge for students and staff to follow, Wednesday's classes will run from 7:25 – 8:52, 8:58 – 10:28, 10:31 – 12:31, and 12:34 – 1:26. The rest of the day (from 1:29-2:05) will be called "¯\_(ツ)_/¯", a class formerly known as Blue Raider Block where no one knows what to do and students sit and wait until it is time to go home. 
By introducing this –what may seem disorganized and rather nonsensical– schedule to Somerset Berkley Regional High School, Raiders will now have to work harder to memorize their schedule, increasing their memorization skills by at least 50% according to Barbara White. Additionally, a long-time unspoken Somerset Berkley rule will now be put in place formally; all students will now be required to stand in the corridor outside of the SDC for 10 minutes before entering and enjoying their lunch. This adopted policy is designed to make sure all students are salivating for the delicious meals offered by the school cafeteria, which no longer includes burritos after the disastrous Unwrapped Burrito Fiasco of 2022 where students tragically had to wrap their burritos themselves.
Now, students are back in the classroom and are loving these new changes. Classes resumed on August 30th and the Raiders were welcomed back with a ten-hour long presentation in which everything they were not allowed to do was listed out to them: from simply keeping their cell phones secured in their backpack throughout the day (despite some being legal adults) to going to the bathroom without asking a computer first. Students were also reminded of some of the things —that may appear to be common sense to most— that they have to do at Somerset Berkley such as arriving at school on time, not disrespecting their teachers, washing their hands after going to the bathroom, and inhaling when they feel that they need a breath, followed by exhaling when their lungs are full.
Somerset Berkley looks forward to implementing these changes and wishes everyone a wonderful school year.