7 Question Slam: Mr. Lanczycki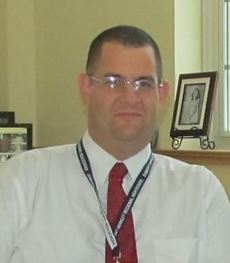 1. What made you decide to be a high school principal?
I was a teacher here and I saw things that I thought I could help change to make us a better school and that's what pushed me out of the classroom in order to make a bigger change than what I was doing inside the classroom.
2. What's your favorite part about working with high schoolers?
My favorite part is watching the world through their eyes. As an adult, I see things through my lenses and sometimes I miss things that high schoolers will see. By talking with them and working with them, sometimes they help me keep myself in perspective.
3. What was your favorite subject in school?
It had to be math with Mrs. Cabral. She showed that you can take a topic that nobody thought was fun and make it come to life. She was my inspiration.
4. What would your superpower be?
My superpower. I would want to be unbreakable so that I could jump in front of people and protect them from what would cause them harm.
5. What's your favorite movie?
A Few Good Men.
6. What's the weirdest way you've heard your name pronounced?
Lanjajuski.
7. Why do you love Game of Thrones?
Because it is so detailed and you need to pay attention in order to pick up all the nuances. I appreciate the amount of time that the writers and producers and directors put into the detail.
About the Writer
Isabella Rocha, Contributor
Isabella Rocha is an editor for The Breeze and a representative for the junior class. She is a member of the cross country and winter and spring track...