2018 Disney Trip
Hang on for a minute...we're trying to find some more stories you might like.
Every four years the music department goes on a trip to Disney World in Orlando, Florida so the students can become better musicians and perform in Disney. This just so happened to be a Disney year.
"The planning of a trip with this many participants, for this duration, and with this distance from home takes much planning and organization. We started our planning of this trip over a year ago which began by sending our applications to perform to Disney Performing Arts. They need to know what kind of group would like to perform, how many students are in the group, the level of musicality the group achieves, and what the group looks like." said Mr. David Marshall, coordinator of the fine and performing arts at SBRHS, marching band director, concert band director, and show choir pit band director.
The trip spanned five days. Each day the music department visited one of the four Disney parks, except one day when they went to Disney Springs (formally known as Downtown Disney). The groups also had performances and workshops during the trip.
On the first day, everyone arrived at the school at two o'clock… AM. From there, buses brought the equipment, luggage, and those on the trip to the airport for the flights at 4:15. The planes arrived at 6:10. After loading the equipment and luggage into the truck, the rest of the day was spent in Hollywood studios.
Elizabeth Orlando is a student in the strings ensemble. She said, "My favorite parts of Hollywood Studios has to be both Tower of Terror and Rock 'n Roller Coaster because I have never been on them before."
The next day was spent in Magic Kingdom. Rachel Ochoa is in both the concert choir and the concert band at SBRHS. "I liked the rides there, of course, and also the firework show by the castle was beautiful. It was really cool to watch the marching band too," she said.
On this day, as Ochoa mentioned, the Blue Raider Marching Band got the opportunity to march down Main Street in Magic Kingdom. Jacob Biello, an SBRHS student in concert band, marching band, and show choir pit band described his feelings while he was marching. "It was really cool." he said, "People who came to Disney from all different parts of the country were standing on the sides of Main Street cheering us on. I remember the last time I came to Disney, I watched another high school march down Main Street and I was genuinely inspired to become a better musician. It was so cool to take the place of that marching bad; I only hope that I inspired a kid to become dedicated to music."
The third day started out with workshops. Concert band and string ensemble combined for one workshop and concert choir had a separate one.
"[The concert band and string ensemble workshop] was broken down into two sections," Biello explained. "The first section was longer than the second. In the first section we were given a few songs, like the Star Wars theme and the Indiana Jones theme, and we recorded our group playing them. In the second section, we played a short section of the Frozen soundtrack. We spent some time polishing it. Finally, they recorded it and synced the recording with the movie."
"Strings and band worked together during the workshop, which was nice as we don't play together often. I had a blast playing various Disney music and seeing our version of 'For the First Time in Forever'" said Orlando.
Ochoa said, "The Disney instructor was very knowledgeable but also made the workshop more fun than just strict and serious."
"Disney Performing Arts provides a 'behind the curtain' experience for our students. Both providing a vocal and instrumental workshop experience, Disney takes the students backstage and into a film scoring studio setting to deliver a world-class music workshop experience from a top music educator of high stature which results in a recording of the students dubbed to one of Disney's top animated films. Both of our groups got to record the music for a scene from Disney's Animated hit movie Frozen. No place else in the world is such an experience provided for student musicians," Marshall expressed.
After the workshops, the group headed off to Epcot. "I liked the country's pavilions and how the flower festival was going on at the same time." said Ochoa.
The next day was filled with shopping and SBRHS performances at Disney Springs.
"When you perform in Walt Disney World, the Disney Performing Arts staff members tell the students that as performers in Walt Disney World today, you are an honorary cast member and are representing the vision of entertainment that Walt Disney himself had in mind when building his company. There is a sense of pride and duty that comes with that responsibility. All of their training with the SMS, BMS, and SBRHS Music Departments prepares them for that day." says Mr. Marshall.
Biello enjoyed performing on stage, "It was really cool because I had a solo in 'Barber of Seville'. It's so cool to think that I played a solo in Disney. I'm also in the show choir pit band so it was really fun to be jamming on a Disney Stage."
Ochoa agreed, "We shared our love for music and all of the hard work of our groups paid off on stage"
"It was a bit nerve-wracking," Orlando recounted, "knowing that complete strangers were watching us play, but once I got into the music, all the nerved disappeared and I played the best I could."
The last day the groups spent some time in Animal Kingdom before getting on the plane to go home. Although it was tiring, it was a fun and educational trip for everyone.
"It never gets old. The magic of Disney is timeless and so is the experience of these performance trips to Disney." said Mr. Marshall.
Orlando relayed, "As a whole, my favorite part has to be the workshop. The advice our instructor gave plus the fun I had playing just makes it stand out over everything."
"My favorite part was the fact that I was there with my friends. Not only was I able to spend time with my friends, but I was also able to make new ones which is super great" said Biello
"A ton of planning and preparation goes into making a trip of this magnitude possible," Mr. Marshall expressed, "I would like to thank the Somerset Friends of Music for their unending support of our musical endeavors, my colleagues and staff members on the trip for helping prepare the students for their performances, the parent chaperones that did whatever was necessary to help make this trip a special and fun experience for the students, Bill Lacey and the entire World Class Vacation family that each year help us plan all of the logistics of this enormous undertaking, the SBRSD, SPS, and SBRHS administration and school committees for their support and understanding of the importance of a performance trip like this to our music education programs, our communities of Somerset and Berkley, Massachusetts as well as the David M. Moraes Music Foundation for supporting and creating a culture in our communities that supports arts education, every music teacher that these students have ever had teach them; a little piece of them was present on that stage in Orlando, and most importantly, for our students and their hard work in preparing for this once in a lifetime performance opportunity."

About the Writer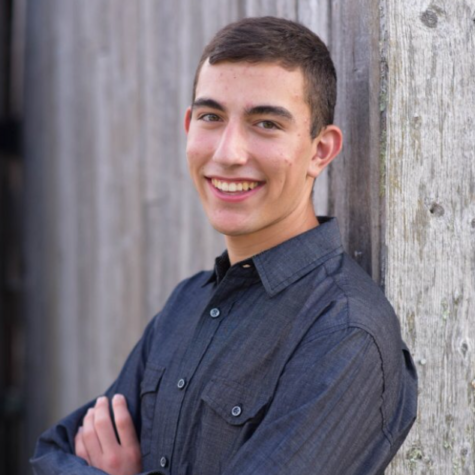 Ryan Silverman, Editor
Ryan is a senior who joined the Breeze junior year. He is very active in the school and enjoys participating in golf team, concert band, math team,...