New SBRHS Club Fights for Gender Equality
Somerset Berkley Regional High School senior Alexandria Celia had been researching gender equality and organizations that would enable her community to advocate for it. In June, Celia brought her idea for a club to David Lanczycki, the principal of SBRHS, and it was approved. The club started running in September.
"Seeing sexism and racism and lots of different inequalities have pushed me to want to do something to actually make a difference about it," Celia says.
Girl Up, an organization that is partnered with the United Nations, is about fundraising for education and opportunities for women in developing countries as well as shedding light on gender equality in general. Girl Up has satellite clubs around the world; there are 1,800 Girl Up clubs in all. Most are located in the United States, but others are located in countries such as Guatemala and Morocco.
It is formed by groups of dedicated adolescents that seek to bring about change and awareness to their community. Once the club was approved by Lanczycki, Celia registered her school's club on the United Nations Girl Up website.
Celia says that the club is still in the process of coordinating activities but plan for students to be assigned international pen pals that participate in a Girl Up club in Morocco.
Celia says that they also plan on doing "a drive for the holidays so we can make care packages for women in local shelters, so we do something both on the national level and the international level."
The club will show the film Hidden Figures, which addresses the issue of gender inequality, and will coordinate a color run to raise money for women in developing countries.
"In SBRHS, I know sometimes people don't embrace others for who they are," Celia says. "With clubs like Best Buddies and Girl Up, it helps people broaden their perspective on the different people that are in the school and how you should just accept everyone for who they are instead of being judgemental."
The club will go on two field trips this year: one to a summit in Boston to listen to speakers discuss gender equality and one to a women's shelter in Boston, called Rosie's Place, in order to give the students some first-hand experience.
"I hope that Girl Up actually makes an impact on the community and actually changes things and enlightens people so they think more about acceptance and embracing all of the people in the community for who they are," Celia says.
The reaction to the formation of Girl Up at the high school has been mostly positive, Celia says, but there were some negative comments made about it, the majority of them being made by males. She says that people were concerned that the club was called Girl Up despite it promoting the equality of both genders.
"It's just something that's going to happen when you're talking about equality and when you're talking about feminism," Celia says. "Some people don't agree with it."
Despite this, the organization has about 30 members and meets every other Wednesday after school for about an hour.
The organization just elected its officers and is advised by SBRHS English teacher Christina Burgmyer. Celia is president, Camryn Demonte is vice president, Emma Ternes is secretary, Mackenzie Reis is treasurer, and Tiffany Chasse is the social media supervisor.
Celia has not only become involved in the fight for gender equality in Somerset but also in Michigan.
She received a scholarship to attend the Women's Convention: Reclaiming Our Time in Detroit from October 27-29. During the convention, there were different speakers, topics, and activities that participants could attend that addressed gender inequality.
"It was such a different experience because the people there talk about things that you don't talk about in your daily life. And the people there were so willing to learn and to change and to make change happen. I got emotional listening to different speeches," Celia says.
Celia says she will relay the information she learned about being an ally to SB's Girl Up members. The session taught attendees what to do when people are being attacked by others (similar to bullying and bystanderism in that regard).
"That session taught me how to be an effective friend or ally to someone you don't know," Celia says. "I'm going to talk about that specific session at Girl Up because it gave me step-by-step processes to address these types of situations."
Celia says the convention taught her about embracing everyone and being there for people.
"I grew up witnessing sexism, so it's influenced how I've thought about things. And different things that I've seen in school: boys can't be sensitive because they'll be seen as not being masculine and things like 'you fight like a girl,' and that kind of stuff," Celia says.
Since conducting tireless research about gender equality, Celia says she has finally "stepped out and started taking action to make it happen."
About the Writer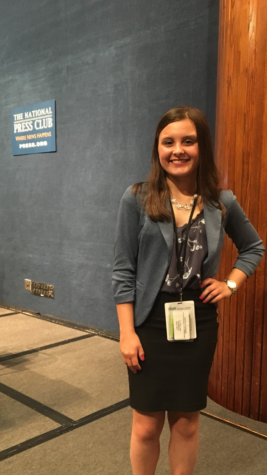 Colby Yokell, Co-Editor
Colby is a senior this year at SBRHS.  This is her fourth year as a member of The Breeze staff. She has been writing for the school newspaper since she...