Dolly Parton and The True Meaning of Christmas
When I think of national treasure, the first person that comes to mind is Dolly Parton. Regardless of whether or not you like her music, there is one indisputable fact: this woman is a superstar both on and off the stage. And I'm not just talking about the fifty-two Grammy nominations and over 3,000 songs. Dolly has given back to her community countless times. Be it through her Dollywood Foundation, various scholarship programs, or her contributions to medical research, Dolly has become a philanthropist in her own right.
But what does any of this have to do with Christmas, you may ask? 
Christmas, at its core, is a holiday about giving; it is about celebrating time with loved ones and giving back to your community. With all the pomp and circumstance that surrounds this time of year, it sometimes hard to remember the real "reason for the season."
I believe Dolly is a Christmas Queen not because of her various albums and movies–although those are great too!–but because of her embodiment of the spirit of giving. 
Here's a list of some of Dolly's iconic contributions to inspire everyone to always keep giving.
1. During the COVID-19 Pandemic she donated over $1 million to help fund vaccine research – this helped create the Moderna Vaccine 
2. She consistently pays for students' band and choir uniforms at predominantly black schools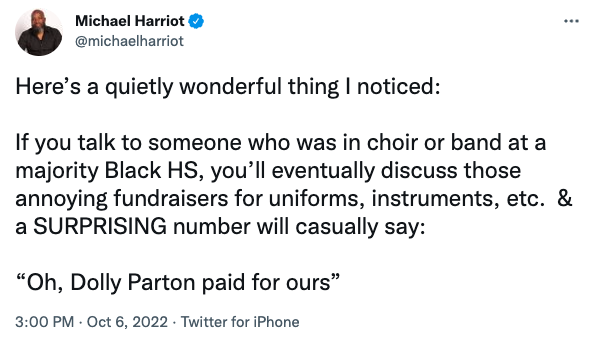 3. She's launched a non-profit called Imagination Library that distributes free, high-quality books to children worldwide
4. In her theme park, Dollywood, Dolly has established an eagle sanctuary that helps rehabilitate injured birds of prey 
5. She has given countless $15,000+ scholarships away to students in Sevier County, Tennessee to students with commitments to dreams, much like herself
6.
She's donated over $1 million to the Monroe Carell Jr. Children's hospital in Vanderbilt
7. She's raised up to $500,000 to build a new hospital in Sevier County, TN