Electrify Tackles Tantasqua
On Saturday February 12, SBRHS's very own Electrify show choir performed at the 2022 Tantasqua "Spectacular." Electrify earned a silver medal in the large mixed division. Electrify's "Shine Your Light" show features solos by Caroline Field, Shawn Simmons, Maggie Corcoran, Morgan Machado, and Emma Franco. Additionally, Electrify's Maggie Corcoran won "Best Soloist" and Caroline Field, Shawn Simmons, and Maggie Corcoran won the "Trio" judge's award.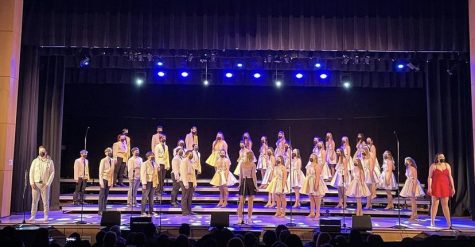 Electrify amped up their performance this week with new half gray and half yellow costumes! These costumes show a gray side during the beginning of the group's ballad (Try/Pretty Hurts/Just the Way You Are) where the main character, portrayed by Caroline Field, is struggling with self image and switches to the yellow side when the main character moves towards self acceptance toward the end of the song. 
Here you can find the link to the Tantasqua live stream(s) from February 12: Tantasqua Show Choir Spectacular 2022 – Small & Large Mixed Divisions