Day Twenty-Three of Breezemas: Krampus Movie Review
While Christmas is a cheerful holiday filled with joy and sweets, the movie Krampus is nothing of the sort. Krampus is an American Christmas horror/comedy film directed by Michael Dougherty. It was written by Dougherty, Todd Casey, and Zach Shields, and came out in 2015. It has an all star cast consisting of Adam Scott, Toni Collette, David Koechner, Alison Tolman and many more. The movie is based on European folklore of the anthropomorphic figure Krampus who scares children who have misbehaved during the Christmas season. The story follows a dysfunctional, bickering family that causes a young boy to lose his Christmas spirit. The boy unleashes Krampus upon the family and they must work together to save one another from a terrible fate.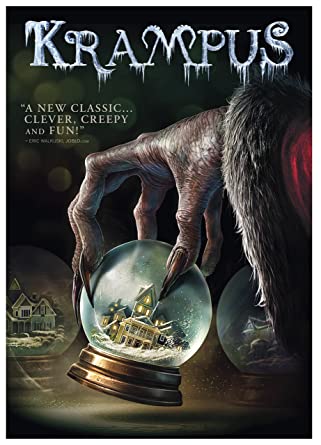 The movie itself has a great blend of comedy and horror. It has similar elements to the classic spooky Christmas movie "Gremlins" which is another one of my favorites to watch during the Christmas season. Krampus does not quite reach the levels of comedy horror and mischievous humor that "Gremlins" does. Although many people expected much of this film, it did not seem to satisfy many people's need for gore and horror. The film is still very entertaining, having a witty script and fast paced plot while also taking time to develop the colorful and distinctive characters. The film crafts a strong feeling of isolation and vulnerability and generates a considerable amount of suspense. It maintains a dark yet playful tone throughout, and even manages to surprise most with a downbeat ending. It also contains many striking visuals, some of the monsters being very grotesque and terrifying to some viewers, while some are strangely like pranksters and playful. 
I would give this movie an overall rating of 7/10. I find it thoroughly enjoyable with its dark overlying themes and horror mood. Its enthusiastic cast and comedy elements truly make the movie, and allow for viewers who don't want a classic cheesy Christmas movie to enjoy. The movie also comes complete with a pertinent central message about the bitter spiritual price one must pay for giving up on the spirit of Christmas, while also finding ways to make fun of classic Christmas stereotypes and the insanity around the Christmas season.