Show Choir Kicks Off New Season With Camp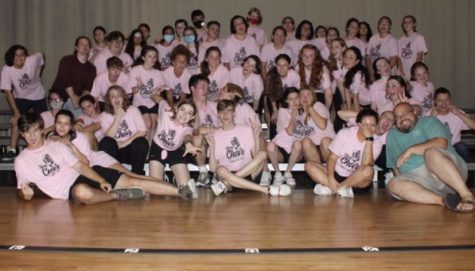 The week of August 16, our show choirs had their annual camp week. During camp week new and veteran choir members are put into small groups called "families". These families meet at the beginning and end of every day of camp to discuss potential fears and hopes for the season. Group leaders for these families serve as mentors to new members and continue to stay in contact with their families during the year. Throughout the week bonding activities, games, and dance workshops are given by captains and advisors. Show choir student leaders also offered instructional classes to newer members such as "beginner dance steps", "show choir life balance", and more. 
Each day of camp has a theme for students to dress according to. This year's themes were class color day for Monday, Opposite Day for Tuesday, Character Day for Wednesday, Barbecue Dad and Soccer Mom day on Thursday, and Camp t-shirt Day on Friday. On Tuesday prizes were given out for the most outstanding and creative costumes,  junior Kaitlyn Strickler was awarded with a small prize for her housewife costume. During these days, Raiders go all out in wacky costumes to represent both SB and show choir pride! 
Choreographer Greg "Bubba" Bussiere and Ashley Racicot worked with Electrify and Amplify on Wednesday and Thursday respectively. Here they learned the opening numbers of this year's shows. The entire choir's fall number was also choreographed that week.
On Friday, the choirs held a parent performance in the PAC for family and friends to show off all of their hard work throughout the week. The performance went in order of the Amplify opener choreography, "Pon De Replay" by Rihanna (a partner dance taught in a workshop by dance captains Bethany Mello and Shawn Simmons), Electrify's opener choreography, and the fall show number. After the main show there was a surprise performance of the song "Starmaker" given by both current choir members and alumni for former choir director Samuel Bianco to wish him luck on his future endeavors.