Six of Crows Book Review
"A gambler, a convict, a wayward son, a lost Grisha, a Suli girl who has become a killer, a boy from the Barrel who had become something worse."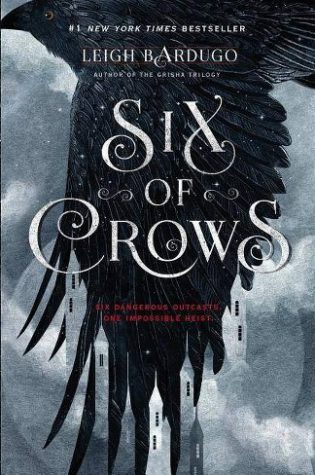 Six of Crows by Leigh Bardugo is truly one of the most well written books I have ever read. It takes place in the fictional city Ketterdam, as well as Fjerda. Six of Crows follows a ragtag group of teens often referred to as the "Crows" pulling off dangerous heists. With a scheming leader and plot twists at every corner, this book is impossible to put down! 
One of the things that really stuck out to me while reading Six of Crows was the diversity. There is representation for disabled people, people of color, and LGBT+ people. Leigh doesn't portray disability as something to be ashamed of, but rather something that is simply a part of you. One of the main characters, Kaz, uses a cane because his leg was badly damaged when he was younger. His bad leg doesn't stop him from being one of the most notorious gang members in all of Ketterdam. In fact, he takes advantage of his disability by using a specially made cane that doubles as both a weapon and a crutch. One of the other characters, Wylan, is dyslexic. Before he joined Kaz's crew for the heist, he believed his disability was something to be embarrassed about, but eventually he realizes that it doesn't make him any less important than anyone else. Jesper and Inej are two beautifully written POC characters who aren't portrayed as stereotypical, while still being in touch with their own cultures. Jesper and Wylan are both bi, and they are written just like any other characters, again not following a stereotypical pattern.
Another thing that really sticks out while reading Six of Crows is the playful banter that the characters have with each other. It really helps the reader to connect to the characters and makes the book even more enjoyable to read. There are no slow points because the characters are either arguing with each other, flirting, or pulling off multiple heists! 
I recommended this book for anyone aged 14+ who enjoys fast paced young adult/fantasy books. Six of Crows will keep you on the edge of your seat and leave you wanting more. I rate this book a five out of five stars for its lovable characters and incredible plot!