Hear My Song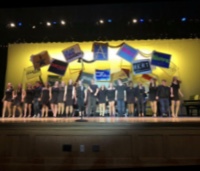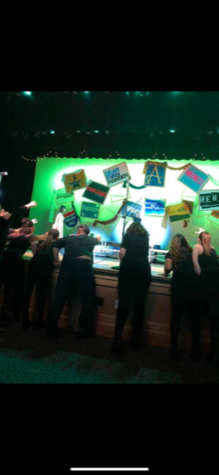 On Friday, November 16, the SBRHS Drama Department held their first ever cabaret show entitled, "Hear My Song." The performance was directed by the choral director, Mr. Bianco, and local dance teacher and new musical director, Loralee Leveque, in efforts to fundraise for this year's annual spring musical, "The Producers". The cabaret was made up of over 40 SBRHS performers, with a collection of solos, duets, trios, and full ensemble numbers. The show began with the upbeat, full ensemble dance number, "Nicest Kids in Town," from the 2002 musical, "Hairspray," featuring senior, Ethan Lazaro. The rest of the act consisted of a number of solos from the new Broadway musical, "Frozen," "Waitress," and "Hamilton." With duets and trios from "Rent," "Shrek," "Side Show," and a featured dance number to Billy Joel's famous "Uptown Girl," from the musical "Movin Out." Act one ended with the hit song "Defying Gravity," from the 2003 musical, "Wicked" featuring juniors Molly Sullivan and Lindsey Arruda.
After a fifteen minute intermission, act two began with an energized, full ensemble dance number to Newsies "Seize the Day," featuring Owen Sawyer, Zachary Almeida, and Shawn Simmons. The rest of the act compiled of a number of solos, duets, and trios from the musicals "Spring Awakening," "Anastasia," "Dear Evan Hansen," "Jekyll and Hyde," and "Chicago." The two and a half hour long show ended with a full ensemble choral number to "Hear My Song," from the Musical "Songs for New World," featuring Delaney Wilson, Molly Sullivan, Emily Nawrocki, Ethan Lazaro, and choral director, Mr. Bianco.
Bianco's inspiration for starting the cabaret this year was the amount of "talented kids who needed to be featured," and since "the drama club didn't do anything official in the fall [they] figured it was a good match. Also with a new director (Loralee) this year, a fall cabaret would give her a chance to see what kind of cast and crew we have and how rehearsals normally go before we get into "The Producers" this spring."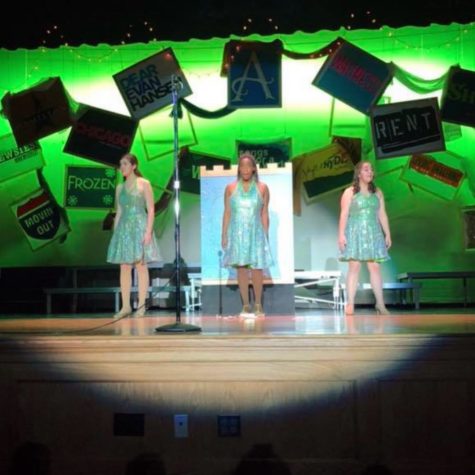 Including previous online and at the door ticket sales, a record-breaking 430 tickets were sold. Local businesses also kindly donated products to be raffled, such as Ray-Ban sunglasses, hair products, cooking products, and more. Through this successful endeavor, ticket sales and raffles, helped the Drama department raise nearly $6,000 to help fund this year's spring musical.
As a cap to an enjoyable evening, Mr. Bianco revealed this year's spring musical, "The Producers," through a powerpoint reveal video with the band director, Mr. Marshall. Due to the overwhelming popularity and success of this year's cabaret, both directors plan on making this an annual event. Auditions for this year's spring musical were held on Wednesday, November 28th and judging by the talented cast it's shaping up to be another blockbuster show. Be sure to catch their production of the musical "The Producers" this Spring. Tickets will be available on the school's music program's website and at the door.