Island of Adventure (part 3 of 3)
(Editor's Note: The following is the third installment of a three-part series that chronicles one student's summer trip to the Azores.)
Now, as the days zoom by, my adventure on the island draws towards its end. But I was determined to make the most of every day and have memories beyond compare that I could treasure forever.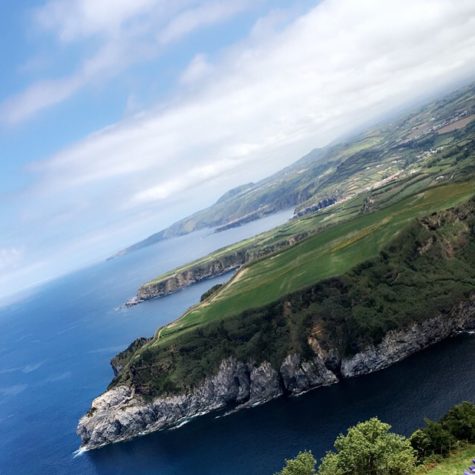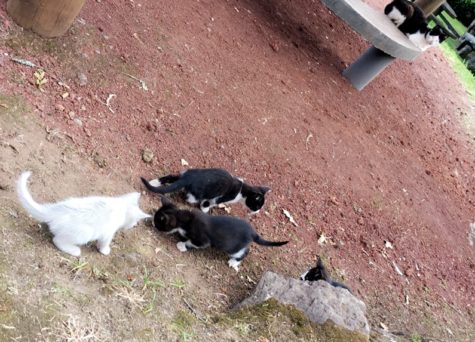 I wouldn't want to bore you with all the details of day eight, so I'll tell you my two favorite parts of the day. Around midday, we stopped at a garden as a rest stop, that turned out to be filled with stray cats. The entire island had many stray cats all over, so this wasn't too surprising, but still really cool of course. Most of the cats wouldn't get too close to us, but this one white kitten did. He was so cute and let me pick him up, and proceeded to climb all over me. Of course, my mom wasn't too thrilled because they were a little dirty and might have fleas, but I didn't care all that much. Towards the end of our day, we found an old lighthouse near a cliff, called Ponta do Arnel, and decided to go see it. So we drove our car down a very thin and bumpy road to get there, which some of my family was not thrilled about. The lighthouse, and the view there, was totally worth it though.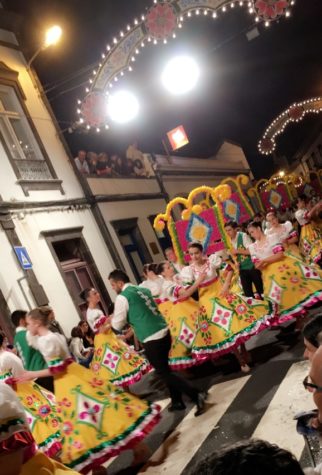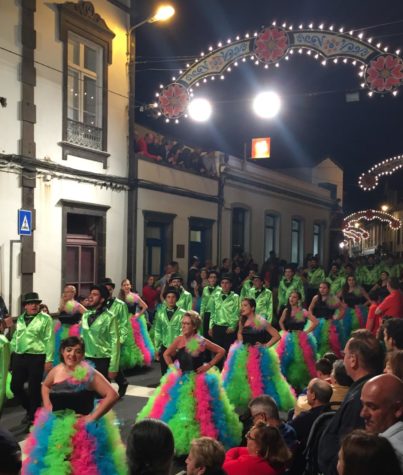 The last day I'll tell you about is day eleven, which I think was my favorite part of the whole trip. We started the day going to a hot spring called Termas de Ferreira. Then, later on, stopping in Ponta Delgada, we made our way to Villa de Franc for the blessing of the water festival. All around, the city was decorated with banners and beautiful lights. The streets were crowded with people and full of life. The festival started late in the afternoon and lasted all night long. In the center, there were bands playing and food carts on every corner. We found a street along the parade route, got a seat, and waited for it to start. My dad and I walked down from our spot to see if the parade had started, and saw the marching band coming down. Quickly getting back to where the rest of our family was, we watched and listened as it began. Finally, the parade floats were coming into view. Amazing music blasted in the background, beautifully colored floats were pulled, and people dressed in gorgeous costumes danced and sang. People around the streets and on top of buildings clapped and laughed; everywhere seemed to be so lively. Towards the end, there were even fireworks going off in the distance. The whole event filled me with happiness and pride. I was determined to stay until the very end, and I did. So around two in the morning when things had finally died down, we headed back to the house, very tired after the events of the day.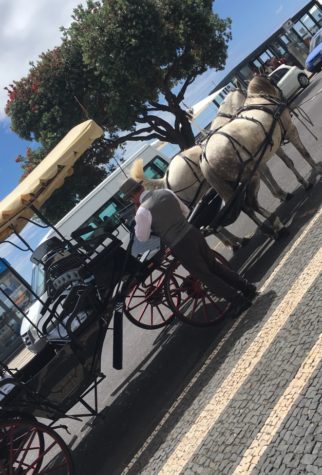 This vacation gave me a chance to learn more about a different culture and way of life, as well as to meet some of my family. Of course, it also gave me a chance to have a lot of fun and to see tons of beautiful scenery, but back to the point. I've grown up with a lot of my family speaking Portuguese, so I understood a majority of the language, but being immersed in it all the time was harder than I thought it would be. The island was pretty secluded, and I'd say mostly rural, with lots of farms everywhere you looked. In fact, we almost got stuck on a road because there were a bunch of cows walking. Apparently it was milking day and they were going to find their farmer. Most things on the island were also pretty old-fashioned. There were many old houses and dilapidated places everywhere, which were pretty interesting to see. We even saw cute horse-drawn carriages in some places. In addition, we got delivered milk, bread, and cheese every day! And I have to admit it was actually exciting, because the food there is incredibly good no matter which part of the island you are on. There were also tons of hot springs and sulfur areas all over the island, and we went to many different ones during our time there. I saw so many beautiful places and learned so many different things, that I'm sure it won't all fit into this series no matter how hard I try. I had a once-in-a-lifetime experience that changed my life, and I can't wait to visit again, to try the things I didn't get to the first time and see my family once again.