SBRHS Senior Stars in The Nutcracker
Hang on for a minute...we're trying to find some more stories you might like.
This is the fourth year that Somerset Berkley Regional High School senior Olivia Lucianno has starred as Clara in Festival Ballet Providence's The Nutcracker at the Providence Performing Arts Center (PPAC).
"I dance because I like seeing how my hard work translates into something that not only I can enjoy but also something an audience can enjoy and understand," Lucianno says.
Lucianno has been involved in the annual Nutcracker production for ten years now, playing the roles of an angel, a candy doll, a party girl, a sugar plum attendant, the trepak corps, and Clara. She began dancing at Festival Ballet Providence when she was just seven years old.
She says she was inspired to join the show after seeing it when she was just a young girl.
"When I was younger," Lucianno says, "I saw all of the pretty costumes and I wanted to wear those costumes, too. It looked li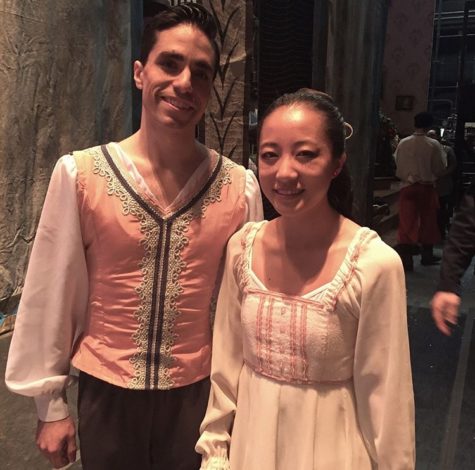 ke a fun time."
There are 30 Festival Ballet Providence company members involved in the show, along with more than 100 dancers from different studios in the surrounding area.
"This is an interesting show in that it's not all Festival Ballet Providence people," Lucianno says. "Other kids from different dance schools can audition and they typically get parts like Soldier or Party Girl."
Rehearsals for The Nutcracker started early this year for Lucianno. The auditions were held the second week of September. The first rehearsal took place in mid-October with the dancers from the different studios. The dancers from Festival Ballet Providence did not join the rehearsals until mid-November.
Typically, the rehearsals take place three times per week for multiple hours. However, during technical week, the rehearsals are six hours long.
Despite the long rehearsal hours and the incredible commitment involved in performing in The Nutcracker, the show is not altered much from year to year. Lucianno says the improvisation and comedic moments are the things that change.
Aside from all of the hard work that is involved in preparing for The Nutcracker, Lucianno has come back year after year because "I've spent so much time at ballet, so many of my friends were there instead of at school, so there was a social aspect to it. It was also just satisfying to master certain movements."
As Clara, Lucianno's rehearsals are usually longer than the other cast members' because she is on stage for almost the entire show.
Because Lucianno has been Clara for so long, her rehearsals are less about going over the material again and "more about figuring out how to act differently and create a new story."
Lucianno says her favorite dance in The Nutcracker is "Waltz of the Flowers," which occurs after she has watched the entire second half of the show from the front of the stage.
"There's so much excitement after seeing the company dancers, and the music is very pretty," Lucianno says.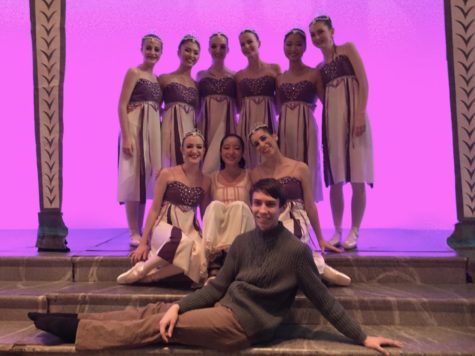 Every dance in The Nutcracker is on pointe, which gets very painful for dancers after doing it for a long time. Lucianno says that over the years, her feet have adjusted to the long hours in pointe shoes.
"At first they used to get numb after a long day but now it's fine," Lucianno says.
Despite being a dancer for so many years, Lucianno says she still gets nervous when she has to perform in The Nutcracker. She deals with her nervousness by talking to people and trying to joke around before she goes on stage.
"I get nervous at how the audience will receive it. It's super nice when there's a lot of applause, especially with the kids' audiences. However, the adults are a little bit tougher," Lucianno says.
After Lucianno's shows, she is usually approached by young children who want to take a picture with her or ask for her autograph, which reminds her of how she became interested in becoming part of The Nutcracker.
"It's extremely humbling because for these kids to do that is super nice," Lucianno says. "I've had this little girl who's drawn me pictures that I keep, and it's very sweet."
Because Lucianno will be attending college in the fall, this is the last year that she will perform in The Nutcracker with Festival Ballet Providence. She says she is going to enjoy her last shows in The Nutcracker to the fullest.
"When we were just in the studio rehearsals, it didn't feel any different and it almost felt tiring. But now that we're in the theater, it really struck me that it was my last year. It's really sad," Lucianno says.
She will miss the theater atmosphere, which puts everyone in a good mood, and performing at PPAC because it is such a beautiful theater.
Lucianno says that being in The Nutcracker taught her how to communicate with other people.
"Even though I'm the lead of the show, it's important to talk to all of the company members and kids to make sure that you're cooperating well on the stage and that it translates," Lucianno says. "I also learned patience and time management."
Because it is a tradition for the dancer who played Clara to give her successor a new pair of the earrings that Clara wears in the show, Lucianno says that she plans on giving them to her understudies. She still has hers from her friend who was Clara before her.
Lucianno says that she will take a part of The Nutcracker with her when she goes to college.
"I'll take it as a holiday tradition. I don't think I'll ever stop seeing The Nutcracker," Lucianno says.

About the Writer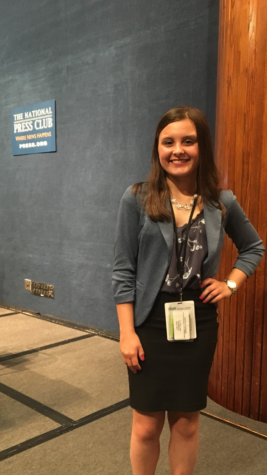 Colby Yokell, Co-Editor
Colby is a senior this year at SBRHS.  This is her fourth year as a member of The Breeze staff. She has been writing for the school newspaper since she...