Signs of Hope at SBRHS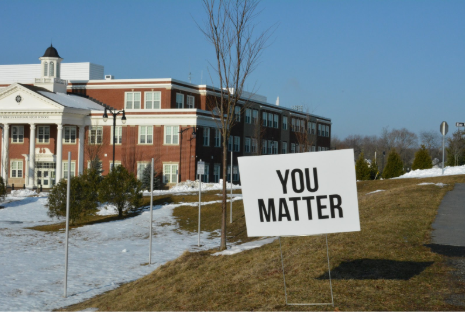 If you've been around Somerset in the past few months, you may have noticed the signs that have been popping up. They're simple; black text on a white background with inspiring messages such as "you matter," "your mistakes do not define you," and simply "don't give up." These signs are the result of the work of SBRHS students, teachers, and community members. 
The Don't Give Up sign movement was started by Amy Wolff and her family after they heard about the suicide rates in their community of Newberg, Oregon. "We got in our car… to stake twenty yard signs around our small town…" Wolff remembers. "I had a neighbor message me… 'you should go on Facebook; people are talking about them.'" The movement quickly expanded into an online store selling the original signs as well as pencils, wristbands, and stickers.
The signs' journey to SBRHS began with Ms. Bowers, who encountered the signs while visiting her son in Bristol after a difficult week. "I paused for a moment," Bowers recalls, "and… I felt a renewed sense of hope that I hadn't felt in quite some time." She made a plan to bring the signs to SBRHS, beginning with a fundraiser that featured the work of the Intro to Ceramics and Advanced Ceramics classes – nearly 90 students in total, with each student making two bowls. Although the bowls began as individual creations, they quickly became collaborative, with students glazing bowls that others had made. Once complete, the bowls were sold at a fundraiser on February 6th to raise money for the signs. Auclair's Market, a local Somerset business, also set up a table so customers could purchase the bowls.
As Bowers puts it, "It was a huge success!" Enough money was raised to buy 80 signs, as well as wristbands, pins, and decals, which were given to students and spread throughout the school. Students helped to deliver and install the signs to the businesses and homes that had requested them, earning community service hours in the process. The impact of the signs is already spreading. "I have received countless emails from the community expressing their gratitude," Bowers says, adding, "The project exceeded my expectations in regards to how profoundly it impacted the school and community."