Ms. Coogan to Bring Positive Change to SBRHS
This year, one of the many new staff members that have enjoyed the SBRHS crew is Ms. Coogan, the Director of Social Emotional Learning and Student Growth. In this position, Ms. Coogan has been working to improve the support given by Guidance to the students as well as incubating a positive culture change of the school.
"One of the things that we really needed to change was not only about the culture but how we access students." Coogan noted, "A lot of students have needs, they should be seen. We need to respect people's time, meaning the students' time out of class as well as when we are with a student, making sure we are focused in the moment."
At the beginning of the year, students were coming down to Guidance at any time, with no true schedule. The meetings were also not as meaningful because the counselors were rushing. Coogan changed the system to require students to make appointments with their counselor.
"We can prioritize and triage what is immediate as far as in need, and what we can see a student for at a later date," Coogan said.
As a result, students are no longer being taken out of class. Guidance is able to focus on students in immediate need and see many more students than before.
Coogan is also noticing that, "there's a lot going on with seniors and we focus a lot of attention on seniors but every class is important." She has started to implement programs to address the concerns of each class.
"For freshmen it is about continuous orientation for them, making sure they are feeling welcomed at the school," said Coogan, "Trying to get them to make new friends, to join new programs, new activities that they otherwise would not seek out."
One of the programs Coogan started for the freshman is a breakfast social. "Each counselor selects four to five students in the freshman grade and every two weeks, we come together for a breakfast and a social." she explained.
At breakfast, the students participate in icebreakers, talk about school experiences, information about school clubs and other general questions. In addition, an upperclassman often gives a presentation about what to expect moving forward. This also gives guidance an opportunity to address any problems that may come up.
"For sophomores," Coogan continued, "we are doing an interest inventory with them. I would like to do more career exploration to see their pathways." By catching students early, she hopes they will be able to make better course selections to meet their need.
As for juniors, guidance counselors are meeting with them during junior interviews. They are further looking into what they are interested in and starting to look at colleges and careers. "I think its important to have exposure early on, to opportunities, to colleges," Coogan said. In March, the school has scheduled two scheduled university visits: one Northeastern University and the other Rhode Island College.
Seniors are now receiving classroom presentations on applying to college and are told of schools. At the presentation, the guidance counselors talk about the Common App and Naviance. On the topic of Naviance, Coogan also said scholarships will soon be uploaded to Naviance.
The end goal of all of this is for guidance to be "accessible, visible, and involved in student life." Coogan believes that counselors should know the "whole student", not just their academic achievements but their interests as well.
Coogan hopes to play a role in shaking up the culture of the school. "Every morning I try to say good morning to as many people as I can. I know they don't know me, they might not even look me in the eye, but you know what? I don't care. What's important to me is that by saying good morning I am acknowledging you, I want you to have a good day, and hopefully that's positive. I think we need more of that here." She believes that we are so busy that sometimes we lose sight of everyone else.
In addition, Coogan believes in giving credit where credit is due. "That's part of the culture I feel we can improve on here. Acknowledging the great successes we have, acknowledging the great work that is happening. Our teachers work so hard and our students are just great students and being happy about that. I think everyone deserves a pat on the back once in a while." Coogan is already working to acknowledge teachers, "Every month we acknowledge three teachers for being part of the culture change, for going above and beyond, recognizing them for stepping up and being accessible to students, being there for them when they need it, beyond the classroom."
"I am grateful for this opportunity and grateful to be here every day." Coogan reflected, "I truly enjoy the school, the students, the staff… I am grateful that people are open-minded to change and reflecting on our practice. I know there is a lot of work to do and every class is different, so I think we continue to think about how we can improve everyday and if we can, then it is our job to do so.
About the Writer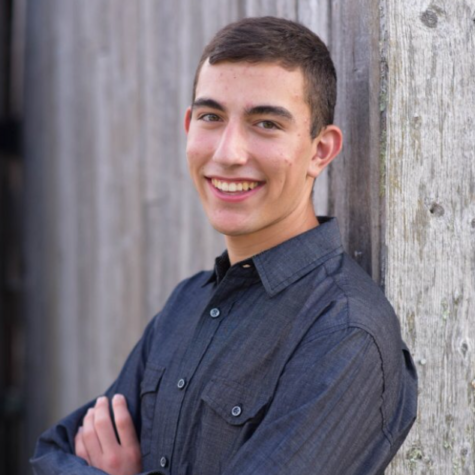 Ryan Silverman, Editor
Ryan is a senior who joined the Breeze junior year. He is very active in the school and enjoys participating in golf team, concert band, math team,...