Girl Up Club at SBRHS Hosts Prom/Formal Dress Drive
The Girl Up club at Somerset Berkley Regional High School is taking action to support the people in their community through their Prom/Formal Dress Drive.
The club is collecting dresses "for any family or individual who maybe at the moment doesn't have the funds or the resources to have something that they want. We want this to be like you come in and if it works and you like it, it's yours. You're not paying for it," Christina Burgmyer, one of the advisors for the club, says.
Community members who would like to donate can drop their dresses off in front of the SBRHS Performing Arts Center on April 14 and 28 from 9 to 11am. For people in the community interested in getting a dress, Girl Up will be holding the Prom/Formal Dress Drive in front of the Performing Arts Center at SBRHS for people to come in and try on dresses on May 5 from 12 to 2:30pm.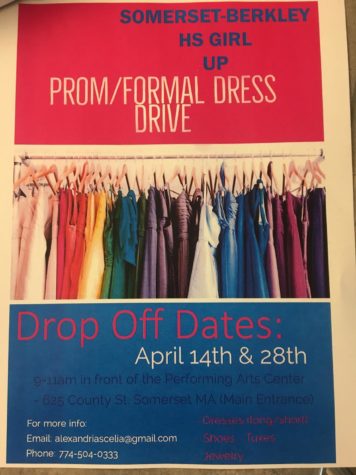 With the Girl Up Prom/Formal Dress Drive, there is no money involved at all. The dresses are being redistributed to less fortunate members of the community.
People from the community can bring in dresses they do not want anymore and then Girl Up will offer them up to anyone in Somerset and the surrounding communities.
Senior Alexandria Celia, the founder of Girl Up at SBRHS and the president of the club, says that the drive will "give girls and boys the chance to feel beautiful or handsome at their proms regardless of whether they can afford it or not. We want everyone to have their special night and to feel as confident as possible. No one should be limited by their ability to afford some of the things needed for prom."
Girl Up is accepting long or short dresses, tuxedos, shoes, and jewelry.
"There's a practical element to it," Burgmyer says. "Spending $500 on a dress you're only going to use once may not be the best way to spend your money, especially since the cost of college is so expensive."
The dresses that are donated do not have to be prom dresses. People that want to get a dress from the event do not have to use these dresses specifically for prom; they can be worn at a variety of occasions. This allows Girl Up to satisfy people that have different tastes, preferences, and needs.
"My heart would be broken if a student was not able to partake in an event because they felt they couldn't afford the dress," Burgmyer says.
A few months ago, Burgmyer introduced the idea of a Prom/Formal Dress Drive to the club. Afterward, the members of the club really embraced the idea and began to turn ideas into action. Girl Up began this drive at SBRHS because "one of the founding principles of our club is equal opportunity, and we knew that this would be a great chance to support the people in the community," Celia says.
The members of Girl Up have been working tirelessly to prepare for May 5. The club has worked collaboratively to decide what resources they will need, how to spread the word, and how to promote the project. They have been creating flyers and posters and have visited different businesses within the community to see if some could donate coupons or give a free updo hairstyle or a free nail style that they could raffle off at the drive. They have also reached out to other schools in the surrounding area to spread their message.
"The hard work and passion of everyone involved," Celia says, "makes all the time and effort so worthwhile."
Celia says that seeing the club take action to better the members of the community is heartwarming and inspiring.
"These individuals are trying in a very real way to make the world a better place," Burgmyer says. "It's exactly what you want as a teacher. You not only want them to grow academically but also to grow into people with character who want to contribute to society."