Effects Of A Government Shutdown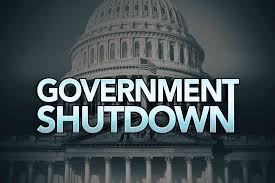 Hang on for a minute...we're trying to find some more stories you might like.
What Is A Government Shutdown?
At midnight on January 20, 2018, the federal government shuts down for almost three days.
A government shutdown is when non-essential discretionary federal programs close. The president must do this when Congress fails to appropriate funds. In the normal budget process, Congress appropriates funds by September 30 for the following fiscal year, which is a year reckoned for taxing or accounting purposes. When that doesn't happen then Congress enacts a continuing funding resolution, or "CR," is a temporary funding measure that Congress can use to fund the federal government for a limited amount of time. If Congress can't agree on one, it forces a shutdown. It signals a complete breakdown in the budget process.
U.S. Government Shutdown in 2018 Explained
Up until January 20, the Senate couldn't get the 60 votes it needed for a bill to extend spending until February 16, 2018. The Republican majority couldn't convince enough Democrats to vote for it.
Democrats wanted the bill to protect immigrants eligible for Deferred Action for Childhood Arrivals or DACA because if Congress didn't develop a permanent fix, Trump's immigration plan would end the program in February. Even some Republicans voted against the bill. They wanted to focus on passing the permanent budget instead another continuing resolution.
On January 22, the Senate approved a continuing resolution that expired at midnight on February 8, 2018. The Senate bill was approved by the House and signed by President Trump. To get the Democrats' votes, Republicans agreed to work with them on DACA legislation.
The continuing resolution was necessary because the two houses of Congress could not agree on the budget for the fiscal year of 2018.
As of February 6, the Senate was nearing a bipartisan two-year spending bill. It would exceed the spending caps imposed by sequestration. Republicans want to increase the base budget for defense spending to $700 billion.
Sequestration limits it to $549 billion. Democrats want a dollar-for-dollar increase in non-defense discretionary spending. Sequestration limits it to $516 billion. But Democrats also wanted aid to Puerto Rico and increased spending on the opioid epidemic.
The House is working on a continuing resolution that would last until March 23. It would boost funding for the military until September, and community health centers through 2019. The House passed an earlier version of its bill on January 18. House leaders couldn't get enough votes to support DACA. Instead, its bill extended funding for the Children's Health Insurance Program for six years. It delayed an Obamacare tax on health insurers for one year. It delayed taxes on medical devices and "Cadillac" insurance plans for two years.
Meanwhile, the Tax Cuts and Jobs Act triggered the Pay-Go budget rule. The Pay-Go rule requires an automatic cut in Medicare when tax cuts increase the deficit. Senate Republicans may have a hard time convincing Democrats, who opposed the tax bill, to waive the rule. Without the waiver, the tax act would force Congress to cut Medicare by $25 billion in 2018. It would cut mandatory programs by $150 billion over the next 10 years.
What is Affected by a Government Shutdown?
The discretionary budget funds most federal departments. But those that provide essential services are not shut down. Essential services are those that include defense, national safety, and security. Many of these agencies are set up so they can operate for weeks without a funding bill. On January 19, 2018, the Defense Department warned it wouldn't pay military personnel during a shutdown. The next paycheck is due on February 1, 2018. Non-essential employees, such as instructors, will be furloughed.
Border Protection and Immigration, air traffic controls, and the Transportation Security Administration remain open. The Justice Department remains open, but gun permits will not be issued during the shutdown. The Postal Service has a separate source of funds, so mail continues to be delivered.
Other than that, here are the other major departments that shut down:
Commerce, except National Oceanic and Atmospheric Administration

Education

Energy; functions that oversee the safety of the nation's nuclear arsenal, dams and transmission lines remain open.

Environmental Protection Agency (EPA)

Food and Drug Administration (FDA)

Health and Human Services

Housing and Urban Development

Interior, including National Parks (The Department of Interior announced on January 19, 2018, that parks will remain open despite a shutdown)

Internal Revenue Service except those processing tax returns

Labor, including Bureau of Labor Statistics

NASA

National Institute of Health

Smithsonian (the agency is using prior funds to remain open January 22, 2018)
The immediate effect is on furloughed government employees and Americans who depend on suspended services. As the shutdown continues, agencies use up saved funds, and more services start to close.
If the shutdown continues beyond two weeks, it will affect economic growth. That's because government spending is, in itself, a component of the gross domestic product. It contributes 18 percent of economic output.
What about Social Security, Medicare, and Medicaid payments? They are part of the mandatory budget. That budget also includes the Troubled Asset Relief Program (TARP) and the Affordable Care Act. These programs are never shut down because their funding is automatic. They were created by separate acts of Congress. The only way Congress can cut their funding is with another act.