SBRHS Club Fights for Human Rights Around the World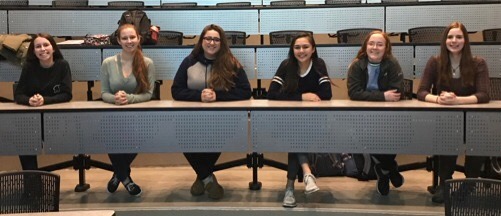 The chapter of Amnesty International at Somerset Berkley Regional High School works to bring fundamental human rights to people around the globe.
"My hope is that we can inspire students to go out into the real world knowing the issues many people face and hopefully inspire some students to go out into the world and try to stop human rights abuses," Nicole Mitton, the president of Amnesty International, says.
Amnesty International is a worldwide organization that is composed of more than seven million people who campaign for a world where human rights are enjoyed by all. Amnesty International investigates and exposes human rights abuses and lobbies governments and other powerful groups to ensure they obey international law.
This year, the SBRHS chapter's focus is on working to end child marriage. In the past, they have focused on the My Body My Rights campaign, deadly force and police accountability, and the death penalty.
The Amnesty International chapter at SBRHS is advised by Kyla Schmigle, an art and graphics teacher at the high school, and led by president Mitton and vice president Sydney Mis, both seniors.
The Amnesty International chapter has greatly expanded in the last three or four years. When the club first started, there were only a few members, so it was difficult to fundraise. Therefore, in the past, the club tended to talk about current events, Amnesty International causes, and sign petitions.
Now that there is more involvement in the club, "we have two to three fundraisers per year," Schmigle says.
One of the chapter's fundraisers takes place in October: Change for Change, in which the money raised is donated directly to Amnesty International. Typically, the chapter has other fundraisers in December and the spring. This year, the club will be raising money around Valentine's Day.
Every year, the chapter donates to Nepal Orphans Home, which provides safe homes, education, clothes, and food to over 120 children in Nepal. Schmigle's sister volunteered at Nepal Orphans Home several summers ago and saw everything that the organization provides for girls, orphans, and single mothers.
"This has helped prevent these girls from being forced into sex trafficking and child marriage," Schmigle says. "Education is key for these children to break a cycle of poverty."
Schmigle says that the chapter receives letters and photos from some of the children and emails directly from the founder of the organization.
At the chapter's first meeting every year, Schmigle opens up a discussion in which the members look at the priority issues on the Amnesty International website and decide on some issues to focus on throughout the year. Each member uploads a profile to the chapter's website describing why they are in the group and a particular issue they want to focus on.
This year, SB's chapter of Amnesty International has 18 members. However, since most of the members are seniors, they are always looking for new students to join.
Mitton began going to meetings for the club towards the end of her sophomore year and has continued attending ever since. In fact, she was unaware the club existed until one of her friends told her about it.
"I have always been interested in humanitarian work and this gave me the opportunity to try and bring it into our school and ensure students know what happens outside the boundaries of Berkley and Somerset," Mitton says.
In the summer of 2016, Mitton went on a service trip to Ghana through the program Global Leadership Adventures, which acts as a Peace Corps for teens.
"I feel as though it was a mutual effect: I joined Amnesty International because of my Ghana work," Mitton says, "but understanding Amnesty International better gave me more of an interest in developing countries and doing volunteer work there."
This year, Mitton is in the process of planning another service trip to Ghana with previous Global Leadership Adventures students as well as people who have not been to Ghana.
While in Ghana, Mitton had the opportunity to become immersed in the country and culture as well as had the chance to make a difference in the lives of Ghanaian people.
"I got to meet so many people that changed my views of the world, and I came back to the United States much more grateful for the things I have and the opportunities I am given," Mitton says.
Although Mitton cannot choose just one issue that is the most important human rights abuse that is occurring in the world today, the right for everyone to have access to education to better their own lives and the lives of those around them is very important to her.
"While in Ghana," Mitton says, "those children had jobs at a young age so they could afford their own education. They did not ask to be in their situation. However, they are making the best out of it and working towards bettering their lives."
SB's Amnesty International chapter meets once a month after school, and each student contributes in his or her own unique way.
The club has some talented art and graphics students that help design posters, flyers, and their website. On the other hand, some members are good public speakers, who talk to students and teachers at fundraisers and make announcements for the club.
"I think this organization really connects to our SBRHS core beliefs and values: our social and civic responsibilities. It helps us better understand and respect one another," Schmigle says. "The group empowers students to know that we CAN help."
Schmigle says that advising the club has made her more grateful for the human rights and democracy she experiences in the United States.
"Amnesty has had a lot of effects on me," Mitton says. "I am more aware of human rights abuses and it has shown me that I want to continue to see the world. But while doing that, I want to help fight for human rights and stop injustices around the world."