Dig Pink and Green
Hang on for a minute...we're trying to find some more stories you might like.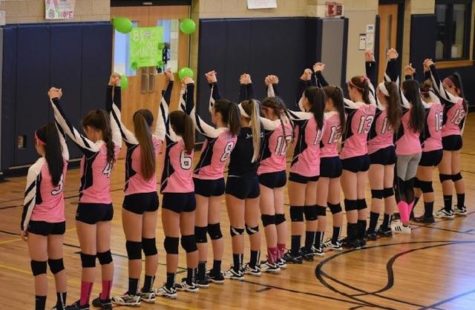 A common pink out game for any sport would traditionally involve pink everywhere, representing breast cancer of awareness. But this one was different. Throughout the packed bleachers full of anticipated supporters and pink, glittery decorations, there was one thing that caught everyone's attention: the vibrant lime green posters and balloons placed around the Somerset Berkley gymnasium. A volleyball student-athlete at SBRHS, Jessica Albin, explains the meaning of this everyday color in a deeper way relating to her homelife with a moving speech that brought everyone to tears.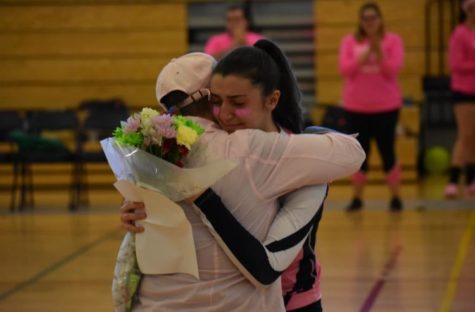 Instead of the pink out game bringing attention to only breast cancer, the volleyball team felt it was important that they all pitched in to surprise their fellow teammate, Jessica, with awareness of her mom's cancer lymphoma. Jessica dedicated a speech to her mom about her family's battle with this tragic event and Theresa Albin's story. Mrs. Albin was diagnosed with a rare type of lymphoma called Malignant Lymphoma, which develops behind the breast plate and is usually mistaken as breast cancer. Her mom was misdiagnosed and told Jessica that she had stage four cancer and only had a little time left to live. As Jessica stated in her speech, any family who would hear this would feel as though "their world was falling apart".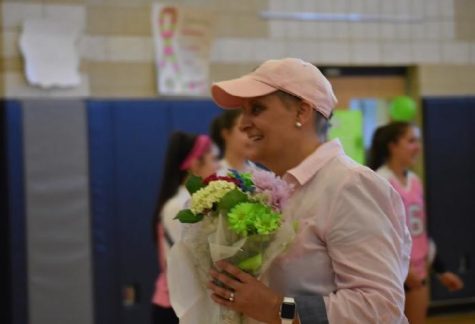 Fortunately, Mrs. Albin underwent successful chemotherapy and got a correct diagnosis of stage two cancer. Still, this affected Jessica and her family in many ways. Recently, Mrs. Albin got checked to see if she was clear of her grievous disease and learned that she was cancer free! This brought not only tears to the Albin family but some of the biggest smiles you could ever imagine on each of their faces. To summarize, the pink out game was not only a tear jerking and moving event, but also another win for SBRHS volleyball. To end the season, the freshman, junior varsity, and varsity team all won their games and did more than played a sport: they came together as not only a team but a family and shared an inspiring story of one of their own teammate's dark times and brought awareness to important things.