Keep Calm and Carry on With Your Promposals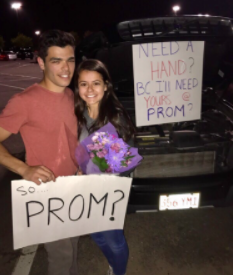 Hang on for a minute...we're trying to find some more stories you might like.
With prom sneaking up on us, it's time to see what promposals were going on in our own school. I've gathering a list of some promposals below!
Kara and Seth
"He came to my work and waited two hours because I got out of work late. So he waited and then when I got out of work, he came over to my car and asked me with that poster which has lyrics from my favorite song "Body Like a Back Road!"
Kenzy and Brendon
"It was supposed to be at the zoo but it rained all weekend. He loves elephants and The Lion King so I had Devin Hastings draw an elephant and Pumba from The Lion King. The posters said, 'There's an elephant in the room but, Hakuna Matata, will you go to prom with me?' I asked him on the football field with some friends from Unified Track and sports. His mom was there and his sister Lauren Fitzpatrick. I had been planning it for weeks, maybe even a month or 2 now."
Meghan and Zach
"I absolutely love coffee, I might even be addicted. We went out to eat at a restaurant. Then when we got back to his house, he told me to wait while he got the mug. He came down with it and handed it to me, it was filled with little chocolate candies too (those are long gone). The mug said, 'I like you a latte, prom?' And I said yes!"
Tara and Dylan
"Dylan and my best friend Kayla picked me up from work and when I walked outside he had a poster with puns from my favorite musicals. He also had chicken nuggets waiting for me in the car"
Kendell and Jake
"So pretty much he had three of his friends in on it and two of them took me out to the mall and one stayed with him to set up, and then when I came back, he surprised me when I walked into the house."
Christine and Andrew
"While I was at work on Tuesday, he played with my car and he took out the battery (or did something to my car) so that when I was ready to leave, my car wouldn't start. He got a spare key from my parents to my mom's car because I didn't have my car that day and he can normally get into my car because it has a car code on it to unlock the door. That night Andrew and Owen went into American Eagle and he wanted to try something on so when I took Andrew into the fitting room, Owen slipped a note to my manager saying that when we were ready to leave that night, he wanted her to text him so he could plan when I was coming out. He knows that he's good with cars and the only flaw to his plan was who I was going to call when I couldn't start my car because he wasn't sure if I was going to call him or my mom. But it worked out perfect because that day was my parents anniversary so they went out to dinner and my mom had told me that they wouldn't be home when I got out of work, so I had nobody else to call besides him because my sister was away at college and my parents were out. I was scared because the Galleria parking lot at 9:45 at night is sketchy and I had no clue he was going to ask me."
Kate and Ryan
"Mr. Chase was showing a presentation about calligraphy to our English class, demonstrating how our final projects should be presented.  The last slide was titled 'Who Cares About Calligraphy?' with the promposal beneath it.  Ryan had asked to go to the bathroom before this slide, but really he had went to get flowers and he returned on the last slide and asked me to prom, of course I said yes."  
Kenzie and Cam
"I had no idea how to prompose to her, but I knew she loved High School Musical. I made a poster with a modified quote from the movie and I thought she would love something like that, so we went out to an ice cream place down the Cape, and after we ate there we planned on hanging out at my house so I had the poster all ready for her when she went down to the basement."
Sophia and Matt
"I was packing for my vacation the day after and he texted me and told me to go outside. He was parked outside and had me walk over to his car and look into the backseat, which had the poster laid across the seats."
I can't wait to see everyone at prom!